On Sale
Mag Stick Deodorant
Introducing FATSKN's first deodorant! A slightly lower concentration of magnesium than in the lotion, I like to apply this at night as part of my bed time routine. Upon application it's a bit wet to the touch - but give it a while to absorb (hence why I like to apply it at night) and you're good for at least the next 24hrs.
Extremely effective at minimizing body odor and helps keep you dry.
Ingredients:
Grassfed + grassfinished Alberta suet tallow
Organic, unrefined, cold-pressed jojoba oil

Genuine Zechstein magnesium chloride flakes

Distilled water
Filtered yellow Alberta beeswax

Directions: Store at room temperature (18 - 22°C). Apply a very thin layer to armpits and allow it time to dry before putting on your shirt. If it itches - you're deficient in magnesium. Do not apply to broken skin (it's a brine, it will sting). A little goes a long way! 
Available in travel-size (30 g) biodegradable paperboard tubes.
Customer Reviews
06/20/2022
Juliana M.

Canada
I recommend this product
It works! :)
So far the best quality product I ever own. The texture is great, works really well!!!! Thank you for making such a high quality product!
Thank you, Juliana! So glad to hear it!
06/20/2022
Olivia H.

United States
I recommend this product
Best deodorant I've ever used
I am an all natural girl and historically VERY SAUCY. This stuff works! I don't even have to apply it daily. Maybe once or twice a week. It works long term and seems to continue to be more effective the longer it is used. I am blown away. I've tried all kinds of natural options, all of which failed. I'm so happy to know if this product. I will absolutely continue to use it and am super excited for the extra large stick!! It is a blessing to have found a natural remedy that makes my skin feel smooth and I feel sexier now without so much peppy sauce. Thanks, FATSKN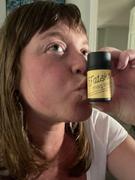 Haha "very saucy". Hilarious. Thank you Olivia!!!
05/30/2022
Tamara M.

Canada
I recommend this product
mag deo
This is a great item & one of the best aluminum/natural deodorants out there (I have tried quite a few!)
Thank you so much, Tamara! So glad it's working for you!