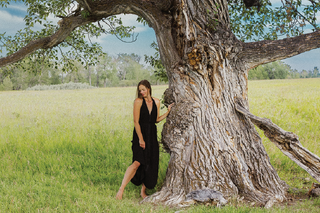 frequently asked questions.
We love that you're curious.  It's the only thing that keeps us moving forward.  
shipping & returns
Below are some common questions about shipping, returns, and exchanges
products
Below are some common questions about our products
Not at all.  Unlike coconut oil, avocado oil, and other plant-based oils, Fatskn ingredients won't clog your pores.  Tallow and cocoa butter are food for your skin. High in vitamin A and skin-healing minerals, they work with your sebaceous glands to regulate oil production and increase cell turnover— leaving your pores happy and clear. As for our products with jojoba and squalane oil, we specifically chose these ingredients for their non-comedogenic qualities: a rating of 0 out of 4.Read our blog for more thoughts on the comedogenic scale. 
Everything excluding the Pre-Sun (as noted on the product page), all our basic ingredients are 100% safe for you and your children.  I'm a mom.  I know how hard it can be to find truly clean products for your family.  That's why I made Fatskn with the purest ingredients I could find. I wanted something my baby could get on her hands, in her mouth, and even in her eyes– something I didn't have to worry about. I massage my littles every night with these butters.  I love that they don't clog their pores or have hormone-disrupting perfumes.  Their skin is perfect– no baby acne here.  
This is a loaded question– here are some thoughts.  Everyone is at a different stage in their healing journey.  And much of what you see on the outside depends on what's on the inside. That said, nourishing tallow-based skincare can undoubtedly help. 
Inflamed acne has three main factors: dead skin cells, too much oil, and bacteria growth.  Since tallow is 80% of the same fatty acid as your skin, regular use can help balance oil production, repair the moisture barrier, resist bacteria, and calm inflammation.  This is especially helpful if you've used harsh cleansers and astringents that disrupt natural oil production. 
If you're new to tallow, there may be a transition period where your skin purges what's been trapped beneath the surface– though this is rare and shouldn't last more than a couple of weeks.  We recommend  Frankincense Face if you know you are prone to breakouts. 
It's all about self-experimentation–so find what works for you.
Absolutely!  We get sensitive skin.  We understand irritation.  We know the struggle.  That's why we created products with simple, skin-loving ingredients and left out the rest. High in steric and oleic acid but balanced by other fatty acids, tallow strengthens skin's defense, soothes irritation, and reduces sensitivity.  So whether you're struggling with flakes and itchiness caused by chronic psoriasis,  redness from rosacea, or just have uber-reactive skin– tallow's a game-changer.  Opt for the unscented formulas in our Purity Collection, designed for the most sensitive skin.
Haha, no-- fair question.  Yes, tallow is beef fat, but we render it low and slow to minimize "beefy" smell. This purification process is similar to cold-pressing.  It leaves us with a milky white, neutral-smelling end product with all the beneficial nutrients intact.  Our body butters are blended with cocoa butter, so there may be a slight chocolatey scent– not the worst smell in the world, right?  If you're looking for some natural, softly-scented products, you'll love our resin-infused offerings in the shop.
It's SO good.  Occlusives seal and protect the skin. Tallow does this by filling in the weak spots of your moisture barrier.  The beauty is that it doesn't leave a greasy or sticky residue like other occlusive petroleum-based products.  And when combined with the humectant properties of the natural beeswax in our Fatstks, get ready for deep, lasting hydration.  A dream come true for dry, compromised skin. 
Yes– it's something we take very seriously.  All the tallow we blend into Fatskn is made from 100% grassfed and grassfinished cows because that's just the right way to do it.  These animals were created to eat grass, and the research supports it.  Grassfed tallow has significantly higher amounts of carotenoids (vit A), vitamin E, zinc, sodium, iron, phosphorusand potassium.  It also contains 45 percent less total PUFA (polyunsaturated fatty acids).  
We proudly partner with a handful of local regenerative ranchers who care deeply about the animals they raise and process.  All their cattle graze on nutrient-dense open pasture and lead happy stress-free lives.  The way it should be.
A lot.  Suet is the harder fat surrounding the cow's internal organs, namely the kidneys.  You can get tallow from any fat in the animal, but suet is usually drier in texture, ultra-pure, and a breeze to render. It's way higher in a triglyceride called stearin which gives a dreamy feel to the finished product and helps soften skin texture. It's as good as it gets!
It can help!  Psoriasis comes down to inflammation and stress.  This means most conventional treatments are a band-aid solution to a much deeper problem.  A holistic approach gets to the root.  Clear skin is possible through healthy lifestyle habits, nourishing skincare, and bio-energetic nutrition.  Skin-soothing products with simple ingredients are just one piece of this puzzle.      
Browse our blog to discover what really causes psoriasis– and how to start healing.
This is a touchy subject.  And there are a lot of differing opinions.  But that's okay!  When we use essential oils in our formulas, we focus on purity, safety, and efficacy.   This looks like organic third-party tested, steam-distilled, whole-food, resin-bound options. And it's always in small amounts.  But we wanted to create options for everyone, so if you prefer products without essential oils or resins, check out our Purist Collection– we know you'll love it.
That's up to you and your skin. Many factors determine how often you should use our products: diet, age, hydration, inflammation, and even location. What a beautiful opportunity to slow down and tune in.  Listen to what your body needs, and respond.  It might be every day or once a week.  If you need more guidance, check out our blog post about finding a skincare routine that works for you.
It's the best. No artificial perfumes, random fillers, or things you can't pronounce—just the basics.  Whatever goes on your skin goes in your body.  So being mindful of the ingredients in your skincare can minimize the endocrine disruptors affecting your health.  But remember, toxins are everywhere in our modern world.  A lot is beyond our control.  So don't stress– just do your best.  We want to help you make informed, healthy choices where you can.  Explore the shop for all our hormone-friendly, tallow skincare offerings.
Didn't find your answer?
Don't hesitate to reach out.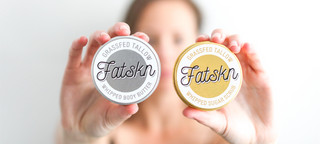 A handful of products— endless uses.
Our Ultimate FATSKN Guide will help you get the most out of each product so you can strip down your routine.
Some of these creative uses might surprise you!
And don't forget to check in often— we're always adding more.