Face products.
Decadent hydration that won't weigh your skin down.
Every Fatskn recipe is intended to be used all over, but these blends are specifically crafted to moisturize, repair, and balance the vulnerable skin on your face— without clogging pores.
What's the difference between Fatskn Whipped Body Butter and Fatskn Face?
The star ingredient in both collections is grassfed and grassfinished suet tallow. 
But just as every main character needs supporting roles, we always add in other stable fats to enhance the texture of the blend and further benefit your skin.
Fatskn Whipped Body Butter is made with jojoba oil, while Fatskn Face is made with olive squalane oil.
Everyone's skin is unique– what works for some won't necessarily work for all.
While our butters offer beautiful results for the face, we wanted to create an alternative tallow-based recipe for skin that prefers squalane over jojoba oil.
Squalane is a saturated dry oil sourced from olives (not to be confused with unstable squalene). It's similar to your skin's natural oils, making it inherently good at rebuilding your skin's barrier and retaining moisture without overdoing it.
If your skin leans oily or acne-prone, explore our Fatskn Face collection to experiment with these more lightweight blends and bring your face back into balance.
Fatskn Purist Face moisturizes + restores ultra-sensitive skin with
Grassfed and grassfinished suet tallow 
Olive squalane oil
Mango butter
Raw (unrefined) cacao butter
Fatskn Frankincense Face treats + hydrates problem skin with 
Grassfed and grassfinished suet tallow 
Olive squalane oil
Frankincense Sacra resin-extract (oleoresin) 
It really is all about finding what works best for you and your skin.
Want to explore these ingredients further?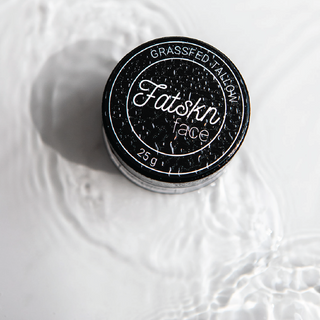 Tallow is beef fat.  There. I said it.  Stay with me.... OK so it's beef fat that is "purified" aka rendered which is the process of heating the fat at...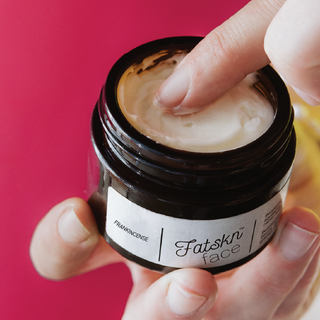 All you need to know about essential oil sourcing and frankincense resin.
Got acne?
Here's what it takes to clear your skin once and for all. (hint: it goes so much deeper than skincare)
The Fatskn forum.
Covering all things biology, skincare, and holistic wellness.