Dryness and dehydration.
Thirsty skin craves nourishment.
Give it a dose of lasting hydration and moisture with rich animal fats, medicinal resins, and essential minerals.
What's the difference between dry skin and dehydrated skin?
These two terms are often used interchangeably– but they're not the same thing.
Dehydration is a lack of water, and dryness is a lack of lipids.
If your skin doesn't hold its shape and takes a few moments to bounce back, it's likely dehydrated. 
Dry skin is often more uncomfortable and can come with roughness and flakes.
Both are tough on your skin, accelerate aging, and lead to inflammation.
Consistently dehydrated skin could be a sign your body needs more fluids and minerals like potassium, sodium, and magnesium (to help water get into your cells).  Dry skin might mean you're not getting enough fats in your diet (think tallow, butter, eggs, full-fat dairy).
As you support your skin from within, saturated skincare can nourish topically.
Fatty acids soften and lubricate, while naturally occurring vitamins and minerals rebuild the moisture barrier and prevent water loss.
Discover ingredients that truly satisfy skin.
What is your skin trying to tell you?
The condition of your skin is a reflection of what's going on inside your body.
Nourishing topical treatments can support healing, but you must address underlying imbalances pushing inflammation to see lasting results.
Healing is possible. But only if you listen to your body and give it what it needs.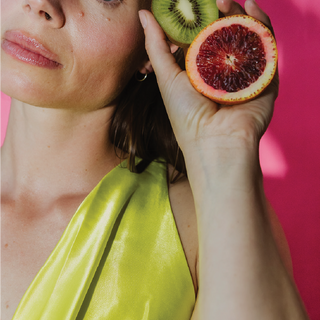 The philosophy behind each skincare recipe.